The Prophecy
The serpent foretold it, but we didn't hear.
60,000 years
First Fleet
When whitey conquered the Terra Australis, they brought with them settlers and agri-cultcha - you can see that because the ship is made from hay-bales and has a tractor on it. Oh, there's Cap'n Cook on there as well.

Landing/Leaching
Strange beings came in their ancient spacecraft, leaching from the land and returning it as an empty carcass, dry and dead, almost useless.
A Salute to the Monarchy
Emus kangas, sheep and gallahs - symbols of the new land stolen from a mankind who had worked the land magically for centuries of centuries, never feeling the need for greed or inventing machines to blast towards the Moon and stars.
Settlement - Taming of the Beast
Lawlessness settled outback and the Rum Soldiers never had a chance, they were too drunk to consider leaving their cushy posts for a land of sweat and toil.
Woop Woop Junction
At the crossroads of civilisation, somewhere far away in Woop Woop, traffic control is necessary to take chaos away from the run of things. Things get mighty busy at Woop Woop Junction. They'll have trams next.
Agri-culture
A tower stands over the expanse of land, making sure that no-one should steal from them.
For the Record
Travellers are reminded of the goods that can be had up ahead, but what about the things that had been?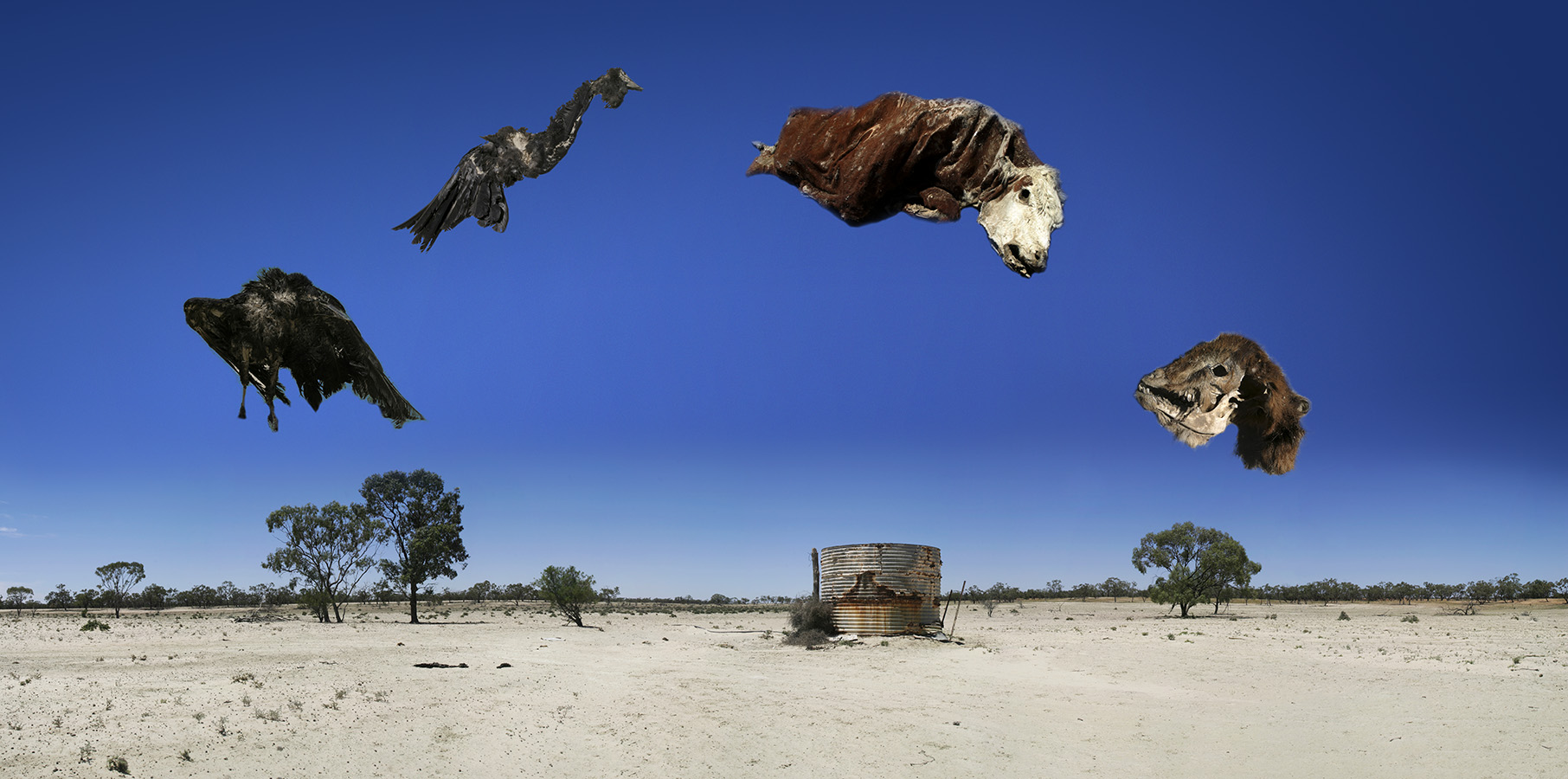 Life Cycle
Water, the essence of life - we are all but shrivelled corpses without its power.

The Politician
Politics is Power. Power becomes politics.
Bonfires in the Afternoon - The subtle decay of rationality
Important/Exportant
Trade: the gateway between co-existence and self-preservation.
Worship
Keeping the masses in line, the invention of "worship" comes in many forms.
Time Ahead
On one side of the coin, we need recreational time, on the other hand, our time is up.
Desire
Forever hungry and desiring more, we see the resources of others as needing to be ours: must have before they go elsewhere.
Atoms
Science and death, an attractive proposition for warmongers who have no concern for the positivity of life, just what they can out of our lives.
Winter
The result of conflict, there are no winners apart from the money-makers who stand far from its doors.
In Search of New Worlds
Not content with the worlds we have stolen, we need to steal some more.